Curriculum
Our Enspire Family
Our Approach
Our model operates on the following principles:
Immersion
Integration of the Arts
Fostering Relationships
Building Character
Enspire aims to contextualize language learning through immersion and active inquiry. By providing opportunities for students to build organic, intercultural relationships, we hope that our students will recognize a purpose for English and want to learn it. Our curriculum redirects the focus from technicalities of learning English to the holistic growth of students as English Learners. Split up into two sessions, each week includes a Create Session and an Engage Session. The Create Session pairs each student with a volunteer Counselor, where they collaborate personally on an art project and have the opportunity to create. The Engage Session, on the other hand, focuses on interacting and forming relationships through fun group activities facilitated in English. Our sessions include trivia competitions, movie nights, creating comic books, board games, analyzing art, cooking classes, painting, learning to sing, and more! Students should not see education as something that happens to them. Rather, they should take control and construct their own educational experience as active participants, like scientists in a laboratory. The process of creating and fostering relationships helps this by instilling students with a sense of agency and purpose. Through all of this, we hope that students will see a world beyond what they are used to and feel inspired to develop new interests, foster a sense of purpose, and pursue their goals with vigor. Our pedagogy draws from the traditions of Paulo Freire, Maxine Greene, John Dewey, Martin Buber, and Nel Noddings among others. At the core of our mission is the aim of 'freedom'. If to educate is to lead, the question then becomes, 'where do we lead them?' Instead of attempting to answer this for our students, we believe that each student should have the opportunity to discover the answer for themselves. We work with each student to find and reflect on each of their unique life-experiences, so that they can discover who they are and the world in which they want to be. The true bounds of freedom are the limits in which we allow children to restrict their imagination. If we rob them of the opportunity to reinvent themselves and the world, we rob ourselves of what could otherwise be.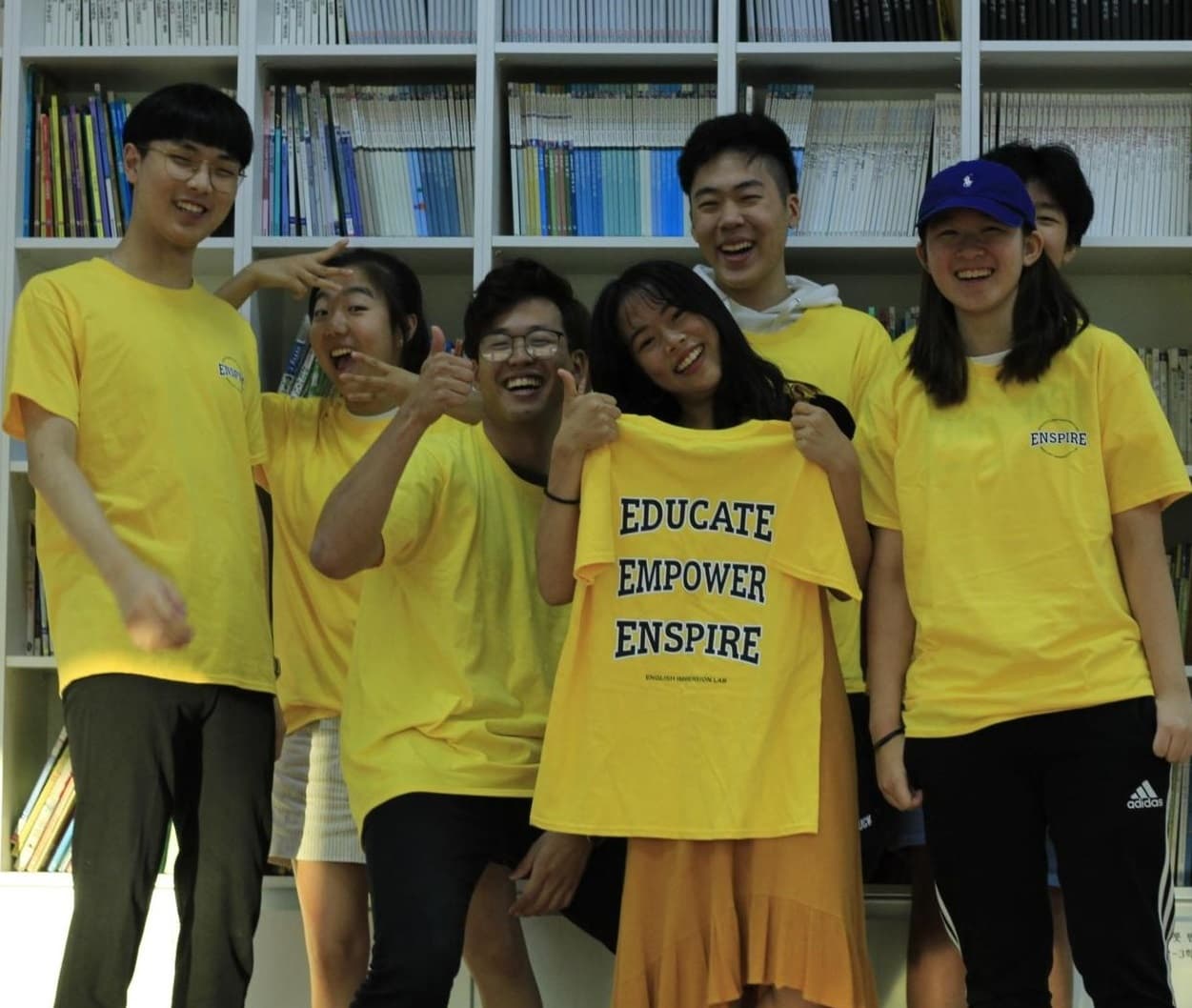 Create
Instructional 1-1 or 2-1 sessions where students build technical skills as well as the confidence to utilize them. Create sessions are the grounds for mentorship where students and Counselors form authentic relationships while participating in arts-based activities that help students recognize their agency through the process of creating.
Currently, students attend three 30-minute Create sessions per week, hosted virtually via video calls.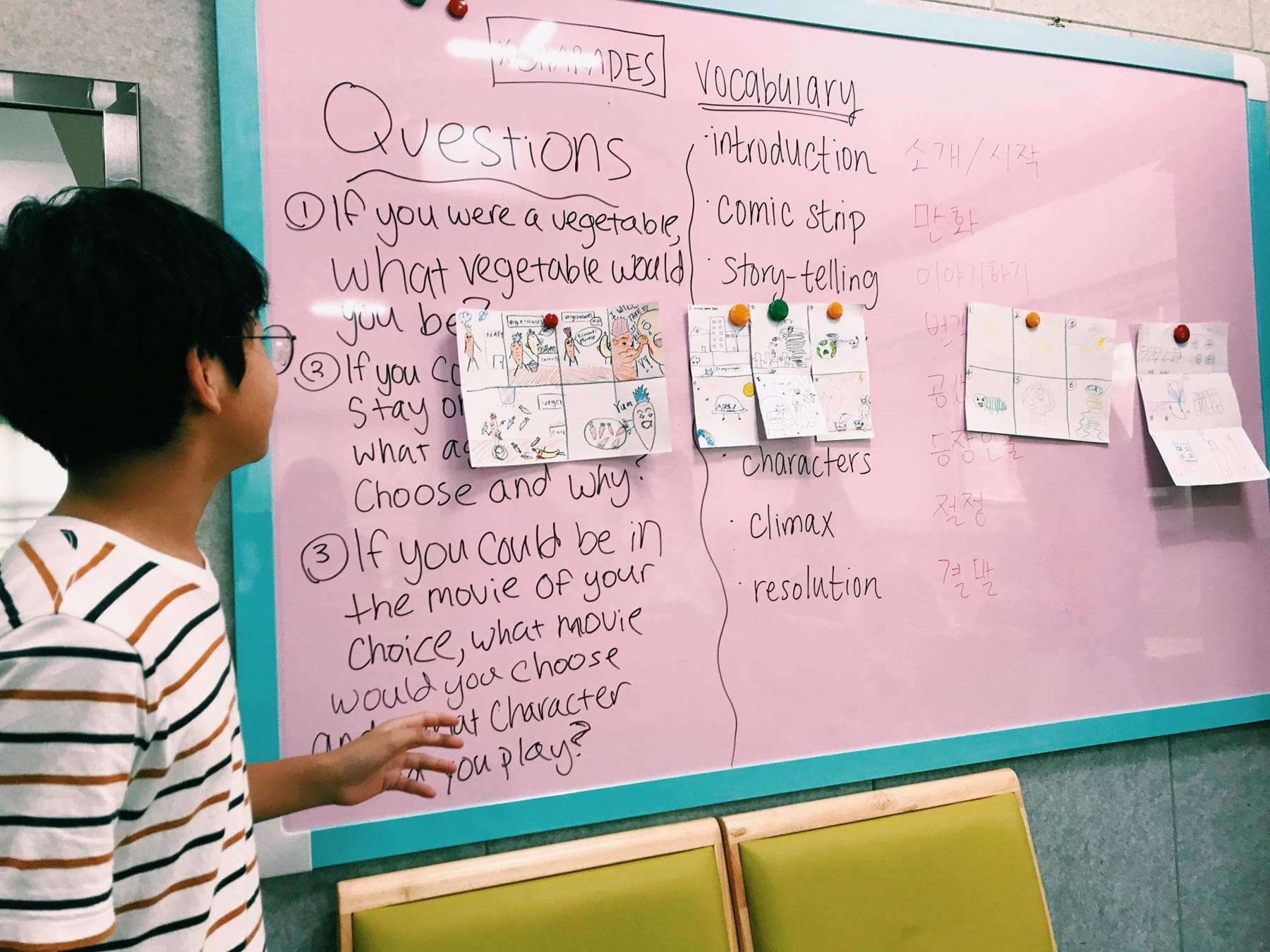 Engage
Group sessions designed to empower students in diverse settings and stimulate curiosity and passion. Students are encouraged to take risks as they apply their English in context during activities, field trips, and games with the wider Enspire community at large. Historical Engage sessions have included trivia quizzes, movie nights, scavenger hunts, and karaoke.
Engage sessions occur in-person once every six weeks as the concluding event of each module.